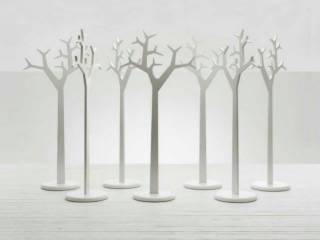 Swedese Tree designed by Michael Young and Katrin Peturdottir.
"The tree design was born from a love of architectural models and making these nice little 2d paper models into 3d reality" Michael Young
Crafted in Sweden and distributed by Hightower Group, the Tree sculpture is a wonderful design statement that always creates interest. Available in lacquered white finish, lacquered black or natural birch wood with a clear lacquer. The Tree measure over six feet in height (76.4") and has a heavy weighted base to provide ample stability.
About Michael Young. Among the most successful and exciting designers of his generation, Michael Young was born in 1966 and graduated in 1992 from Kingston University. He worked initially with Tom Dixon at Space Studio in London and then in 1994 launched his first collection of furniture in Paris and Tokyo. Working between Iceland and London for clients including; Swedese, Sawayay & Morino, Cappelini, Magis, Rosenthal, Christopher Farr and Ritzenhoff, amongst others. Young's work has been exhibited in the Design Museum in London, the Musee d'Arts Decoratifs and Center Pompidou in Paris, Neue Sammlung in Munich and the Portugese Museum in Lisbon.

About Katrin Petursdottir. Born in Akureyi, Iceland in 1967. Katrin is an acclaimed designer and artist, who studied industrial design at E.S.D.I. in Paris, which lead to work in Philippe Starck's studio in Paris, and then in Ross Lovegrove's studio in London. She then went on to establish M.Y. Studio Ltd in Iceland with her husband, Michael Young. Katrin is also Director of Design Studies at the Iceland Academy of the Arts in Reykjavik.


Request Tree Catalog & Pricing